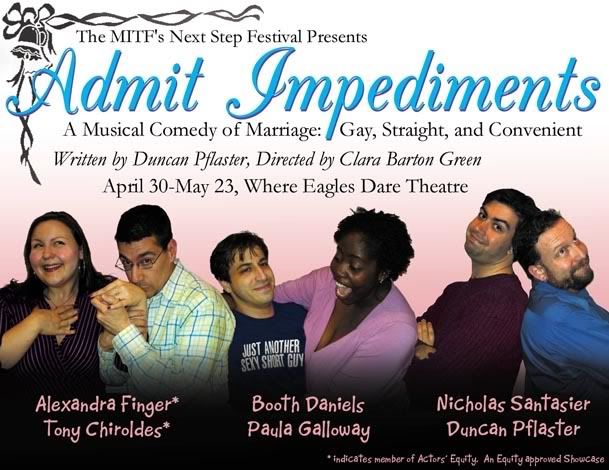 Book, Music and Lyrics by Duncan Pflaster


Directed by Clara Barton Green



When Josh invites all his friends over to watch him propose to his girlfriend Chaminade,
it causes friction with their Gay friends Ritchie and Dominic, as well as with their friend Veronica,
who spitefully marries a random Middle-Eastern man in a quickie Las Vegas wedding.

Reviews!







Admit Impediments is a Musical Comedy written and composed by Duncan Pflaster and directed by Clara Barton Green. This show takes on the delicate issue of gay marriage, subtly accomplished by asking us to look at the nature of marriage, both heterosexual and for convenience. It asks tough questions and expresses the frustrations experienced by all people denied this basic human desire, and by the end our engaged couple make the decision not to marry until it becomes an equal right for all. Reminiscent of early Charles Busch, the writing is witty and clever; the social clichés manage to feel fresh and fun. It opens with a song titled "Getting Stoned with My Baby", and follows with a sassy number called "I Love Your Breasts". "Every Day of My Life", sung by Booth Daniels, is a sweet tear-jerker worthy of any pop chart. Mr. Pflaster takes himself seriously; these songs are Broadway worthy. Part of the MITF Development Series, this production is sparsely produced and cries out for a bigger production.



- Li Murillo, Hi!Drama (Manhattan Cable Show) 5/18/07



Duncan was also interviewed on the Mikeypod Podcast! You can hear it directly here. Included is a rare demo of Veronica's song "Good Bad Man" as sung by Duncan(!), as well as one of Duncan's songs from Songfight!.

Hear what audience members are saying:

"Brilliant writing by Duncan Pflaster. Wonderful performances by the entire cast!"

"Tuneful and very funny. Bravo, Duncan!"


- Marc Goldsmith, author of

Danny Boy

(NY Fringe Festival 2006)

"Stridently political with a song about hooters. What's not to like?"


- Thomas Farley






Starring: Tony Chiroldes*, Booth Daniels, Alexandra Finger*, Paula Galloway,
Duncan Pflaster, and Nicholas Santasier

* indicates member of Actor's Equity

an Equity approved Showcase

Mondays throughWednesdays

April 30 - May 23rd, 2007

at Where EaglesDare theatre - 347 W. 36th St.





Tickets $18 ($15 Students and Seniors)

through SmartTix.com or call them at 212-868-4444



Part of the Midtown International Theatre Festival's Next Step Development Series.

After you see the show, please vote for us at the NY IT Awards!



PICTURES!


Josh and Chaminade
Ritchie and Dominic
Veronica loves her phone.
Chaminade hates wedding planners.
Veronica introduces Asif.
Pictures for the INS
Hey now!
Dominic points things out.




The Cast, with Director Clara Barton Green


Saturday, May 4th, some of the cast went out to The Duplex for the Friday night Mostly Sondheim,
and we did a few numbers for the people:

| | | |
| --- | --- | --- |
| | | |
| Paula goes "Bridezilla", with backup by Duncan and Alex. | | Alex belts out "Good Bad Man". |