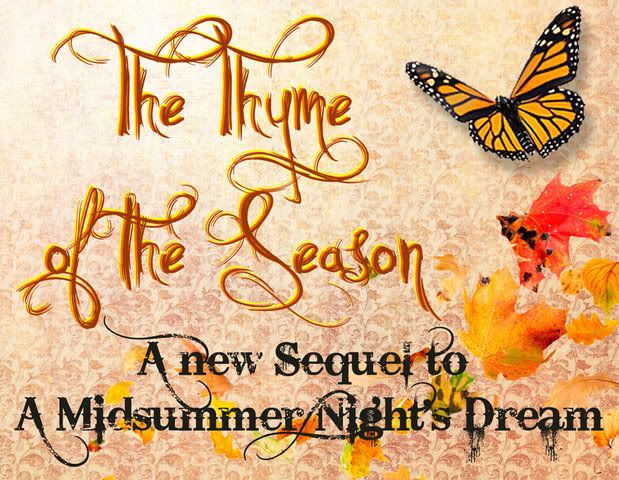 Written by Duncan Pflaster
Conceived by Duncan Pflaster and Clara Barton Green


It's Hallowe'en, three months after Midsummer. When Titania and Oberon need to pay their 7-yearly tithe to hell, they need to find a human soul to sacrifice. Puck's been ensorcelled by a witch so that he can't sleep, and there's a new Autumn fairy, Pumpkinseed, who is in love with that merry wanderer of the night. Meanwhile, Helena is pregnant, Demetrius thinks she's cheating, Lysander is exploring his feminine side, and Hermia is unsatisfied. Bottom has become a huge famous rich ass. Everyone goes into the forest, but will they all come back out?
You can buy and read the script online at Indie Theatre Now!
The Thyme of The Season premiered as part of the Planet Connections Theatre Festivity June 5th-28th, 2010. Duncan Pflaster won Outstanding Playwriting for an Adaptation, Revival or Sequel, and Mark Richard Caswell won Outstanding Costume Design in the 2010 Planet Connections Awards.
The cast included Eric C. Bailey* as Bottom, Matt Falber as Demetrius, Clara Barton Green as Puck, Rebecca Hirota as Hermia, Tania Jeudy as Fairy Pumpkinseed, Shawn McLaughlin as Lysander, Ryan G. Metzger* as Oberon, Kelly Nichols as Helena, and Michelle Ramoni* as Titania. As part of our commitment to sustainability, we reduced our printed program to one half-page of recycled paper. The rest of the program information is here.
* Indicates member of Actors' Equity Association. An Equity Approved Showcase.
Clara Barton Green as Puck
Photo by J. Specland Photography


And now that Summer's in the past,
Another season's passed us by;
The wind takes on a rougher cast
And silent clouds are in the sky.
The nights are longer, darker, too.
Hobgoblins find it's time to play,
When pumpkins swell and witches woo,
And banshees howl the night away.
So humans bundle up and hide,
As fragile as the Autumn leaves,
Or better yet, just stay inside-
Let no one face what he believes.
Stay inside where's naught to fear;
The darkness comes, this time of year.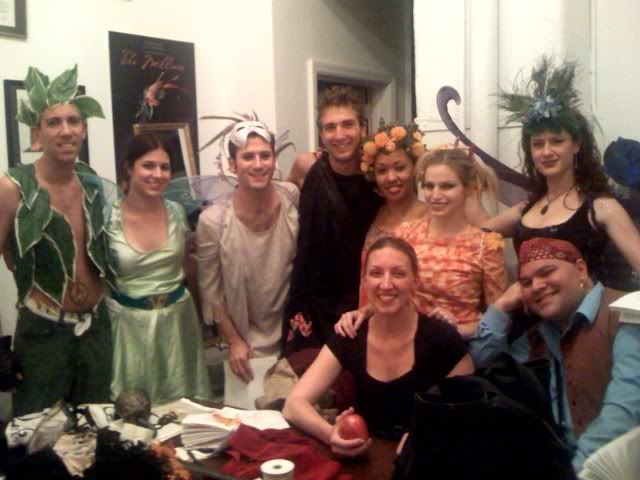 Katherine and Friends hosted an industry staged reading of the show on Monday, September 17th, 2007, with the following cast:
Patricia Comstock, Dana Dellamonica, Carlos Rafael Fernandez
Clara Barton Green, Tania Jeudy, Shawn McLaughlin
Ryan G. Metzger, Kelly Nichols, Luke Strandquist





There was a private reading of the script by Janus Productions
in late March, 2007.